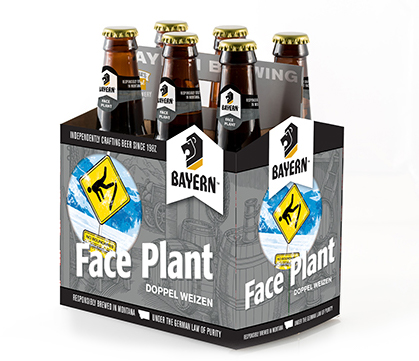 FACE PLANT
Alcohol Content: 7.5% Alc. by Vol.
IBU: 18
Color: Dark Brown
Availability: Skiing season (Thanksgiving – April) on draft and in bottles
Since we brew beer in the Bavarian tradition at Bayern (which means Bavaria in German) our list of beer styles would not be complete without our Face Plant Doppelweizen. This unfiltered Wheat Bock beer is the counterpart to Bayern's famous Doppelbock Lager and is decoction-brewed, a technique used often in Bavaria but seldom in the US. The recipe uses five types of malt (Wheat, Pilsener, Carmel, Munich and Chocolate), and has an o.g. of > 17 % Plato, producing a stout 7.5 % Alc. by Vol. As with all Bayern wheat beers, Face Plant surprises with its complex flavor. German Hallertauer Perle hops give this hearty bock beer a perfectly balanced sweetness.
The formulation for this delicate beer came from the Brauerei zum Schiff in Kaufbeuren, Bavaria. Bayern Brewing's proprietor, Jürgen Knöller, was one of the last of five brewers that brewed this special beer in 1979 before the brewery, which was founded in 1540, sadly closed its doors due to the owner's passing.
In fall of 2007, when it became apparent that the crisis of extremely high raw material prices would continue, the Bayern team decided to test the market with a brew that uses a very large amount of energy and raw materials while being the most difficult, labor-intensive, demanding beer that anyone could create. We told our distributors that we would do two brews at 1000 gallons each to see whether the market could handle the premium price that we had to charge due to these factors.
Our "Super Brew" lasted only a couple of months and then completely sold out.
So Bayern Brewing continues to brew Face Plant while its popularity continues to grow. Thus Doppelweizen has been revived here in Missoula, Montana, USA. We hope you will enjoy a piece of living beer history and a specialty beer that is truly rare, even in the Northwest's highly diversified beer landscape.